Memoria Myrana 55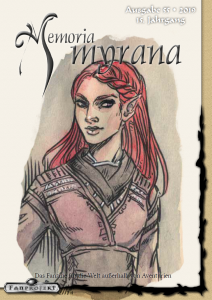 Since 2000, there are now Myranor, initially at Fantasy Productions, then came Ulisses and finally, the movement publishing. This is made with Patric Götz at the top of the Golden land could really Shine. Without the commitment and the many people at the publisher, the release of the Western continent, would become "our" Myranor never what it is today: colorful, diverse, exciting and vibrant.
But now the publisher at the bottom, the us will get the Golden country for some time, of all things. On 4. In June, the publisher had to announce officially the insolvency. Quickly there was a great solidarity in the network, and the first actions to help. In just a few days Ago, the empty warehouse bought supplies had to be brought in. However, the further fate remains currently uncertain.
Thus, not only a remarkable publishing house in danger of is not, also for the Myranor-Fans is increasing to get the issue printed versions of previously published works. So you can catch two flies with one stroke: quick the missing books to order, and at the same time the publisher will help.
From Ulisses is reported that in the new demons-publication pandaemonium is also a part of Myranor is included. Several protagonists of the work gülden Patriotic Background and appropriate text. When it is first Myranor-publications to DSA 5 from Waldems, is currently still open.
Warning: this article was automatically translated
from German and might be inaccurate
© Memoria Myrana